As people pass through time, the events they experience, both good and bad, shape who they grow up to be. Moonlight is the story of one man's life. Chiron, played by a different actor in each of the three time periods, is raised by a single mother in a poor part of Miami. As a child, Chiron, called "Little" due to his size, barely talks and is regularly beaten up by other kids at school. When running away from his bullies, he meets Juan (Mahershala Ali; House of Cards), a drug dealer, who takes care of him and, along with his girlfriend Teresa (Janelle Monae), becomes a surrogate family member. When his mother uses drugs or when he gets picked on, Chiron goes to their house for support.
The consequences of Chiron's upbringing are clear. One day he goes to Juan and Teresa's house and asks "Am I a faggot?". Without support from his mom and without a father, he is unable to figure out who he is and the labels other people attach to him, including his nicknames, determine how he behaves and perceives himself. As a teenager, his mother's drug addiction becomes a larger issue. He often can't stay at home and doesn't know how to deal with his homosexuality. The outside pressure to act "hard" or "tough" in order to survive push him to a life of crime.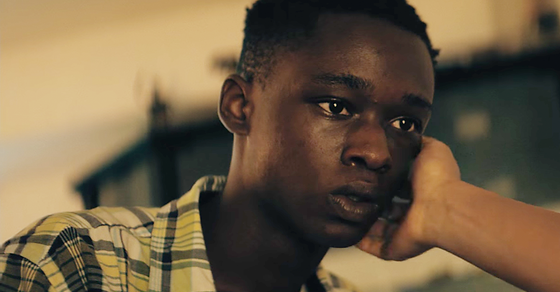 After serving time in prison, Chiron deals drugs just like Juan did. He has tattoos, wears a grill, and even drives around in Juan's car. After the one romantic experience of his youth left him heartbroken, he clearly overcompensates for the pain he has felt. Chiron spent his time in prison changing himself so nobody could hurt him. Despite his tough exterior, when he reconnects with a childhood friend and first love, his true nature comes out. He reverts to the reticence of his youth and is at a loss for words. His subtle hesitations betray the emotional frailty behind his facade of hardness.
The actors deserve enormous credit for their consistency. Whenever a character's life is split into distinct sections and requires different actors for each, there is always a risk that they don't seem like the same person. Yet even as Chiron changes physically, especially as an adult, the character's behaviors carry through. The sad stare, the tilted head, and other minute mannerisms remain constant. The cast and director are able to unify the performances and create a cohesive character portrait.
Moonlight has incredibly sensitive direction. Barry Jenkins (Medicine for Melancholy) brings a deliberate pace to the film. Each scene is intimate and characters feel real. Jenkins shoots his characters close-up with lighting that emphasizes mood. The best comparison is Derek Cianfrance whose character interactions also share the same intensity. Words are spoken slowly for maximum impact and the looks in the eyes of the characters as well as their physical posture are just as important as dialogue. Moonlight uses its measured style to examine a young man's life with raw veracity.
4/5 stars.