The typical movie about aliens coming to earth is a war movie where humanity has to fight off their attackers. Arrival chooses to examine this situation from two other perspectives: a linguist trying to communicate with them and the divided nations struggling to deal with this potential threat and its social and economic implications. Amy Adams (Man of Steel) plays Louise Banks, a professor of linguistics hired by the government to find out why the aliens have come to earth. She is aided by Ian Donnely (Jeremy Renner; The Hurt Locker), a theoretical physicist, and led by Colonel Weber (Forest Whitaker; Lee Daniels' The Butler). As they make contact with the aliens, Louise discovers they use an extremely complex form of writing and struggles to understand them while dealing with exhaustion and visions of a young child.
The most frustrating, but realistic, aspect of the film is how terrible earth's nations are at anything that requires coordination. After the aliens arrive, people are in disarray, economies tank, and the media goes wild with conspiracy theories and unfounded, inflammatory advice. Initially, the nations form a coalition and share their progress, but that changes when one country learns of something that might be a potential weapon. They immediately go offline and the rest of the world follows, effectively ending any cooperation despite its clear benefits. The aliens are viewed from a military defense perspective, not a scientific one. The Colonel tells Louise that everything she does has to be reported up to "a group of men asking 'How can this be used against us?'". Their fear causes them to make grave mistakes and construe any alien action (or non-action) as a potential threat of war. The script very convincingly captures how the mentality of self-preservation would likely doom any chance of a unified global effort.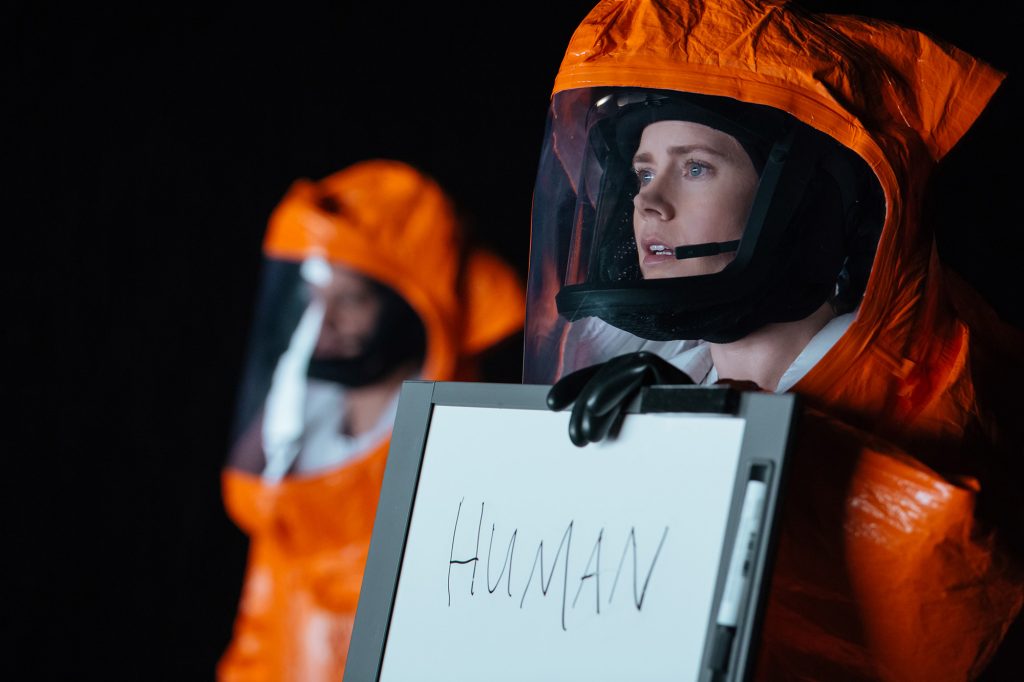 The linguistics perspective provides a fresh take on familiar subject matter. Louise's slow discovery process with the aliens is fascinating. Despite the incredibly complicated nature of the task, the closest parallel is a parent teaching a child to read, but with enormous consequences. Louise and Ian learn and teach certain words until they are able to form and understand rudimentary sentences. Director Denis Villeneuve (Sicario) shoots the film with the foreboding tracking shots he has become known for. Each step forward is hard-earned and grants reprieve from the threat of conflict present throughout their meetings. Some may find the pacing of their discovery to be sluggish, but it feels realistic given the difficulty of their objective.
The veracity of Arrival's interesting angle is damaged by a hokey twist. There are hints that there is more to a character's life than explicitly stated, but when this comes to fruition the deeper element is revealed to be a giant plot hole. As different governments plan to take offensive actions, Louise and Ian are working against their own government as much as they are an alien language. This creates an interesting dilemma as it is unclear how they will overcome this obstacle, but instead of attempting to grow the situation towards a climax, the screenwriter, or perhaps the writer of the short story the film is based on, uses a sci-fi element as a get-out-of-jail-free card to resolve the conflict. It is in complete opposition with the film's sober tone and damages its intent. Arrival's realistic approach to encountering aliens is debilitated by a contrived plot device.
3/5 stars.