Nacho Vigalondo, the Spanish director who debuted with the similarly strange Timecrimes, is back with his highest profile release yet. Colossal stars Anne Hathaway (The Devil Wears Prada) as she plays against type as Gloria, an out-of-control alcoholic writer who returns to her small-town family home after being kicked out by her fed-up boyfriend. When back home she reunites with a childhood friend (Jason Sudeikis; We're the Millers) and discovers that she is somehow controlling a giant Godzilla-like monster rampaging through South Korea.
The ridiculous setup brings lots of laughs. As Gloria discovers the rules of her powers, her drunken attempts to make sense of things are hilarious and Hathaway is clearly enjoying herself in the role. In her few moments of sobriety she fails miserably at explaining her situation to her friends. It isn't until she starts making the monster dance or do other unusual movements that she is able to convince them. These scenes become comedic as the director crosscuts between her steps in a suburban playground and the masses of hysterical people fleeing city-wide destruction in Seoul. Then, when she is afraid of what might happen if others knew about her ability, she clumsily tries to hide the truth, as if anyone would believe her. When Gloria is still discovering the rules of her situation, the film is as funny as it is intriguing.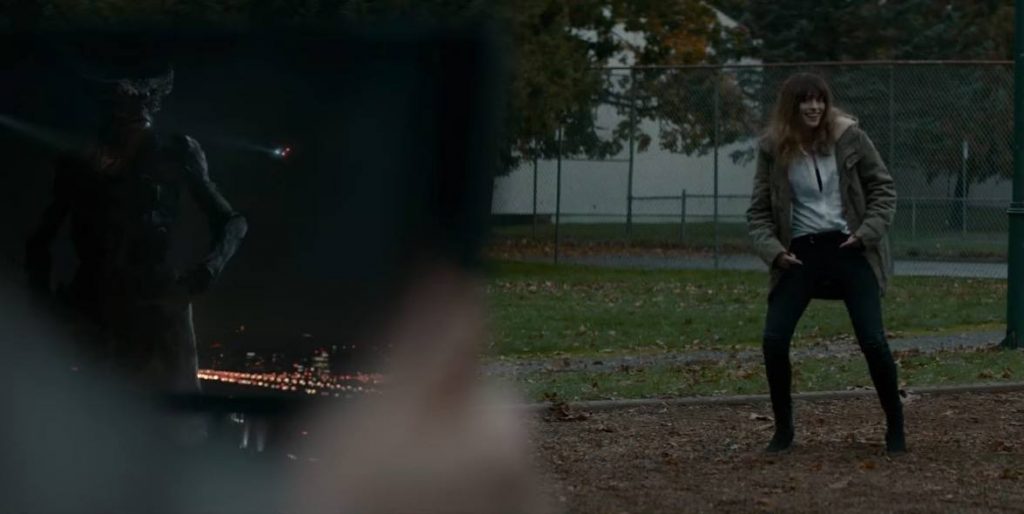 What's surprising is how being the monster changes her. In her previous life, Gloria's lack of responsibility allowed her to spiral out of control. She didn't have any impact on others so she was left without a purpose until now. The ability to control a gigantic beast in another country becomes empowering. She can suddenly communicate with and affect the lives of millions and it changes the way she approaches her life. She starts to make better decisions (i.e. drinking less) and taking more responsibility. The use of the supernatural setup to grow her character is an unexpectedly compelling character arc.
It's the film's latter half that drags it down. Unsatisfied with the lighter tone, Vigalondo moves the film into much darker territory. Certain characters make abrupt turns into villainous roles and the sudden change is unearned. It ruins the fun of the wacky premise and doesn't match the precedent set by the early parts of the movie. The director also adds unnecessary exposition. There are brief flashbacks throughout the film that hint at the cause of Gloria's powers, but when their true nature is fully revealed it creates plot holes rather than filling them. The explanation doesn't add gravity to the film and only distracts from the core: Gloria's self-improvement. As strange as it seems, these changes stretch belief more than Anne Hathaway controlling a kaiju.
The most important factors in a film like this are consistency and commitment. Consistency in tone and commitment to the story. Far-fetched premises like Being John Malkovich, or any of Charlie Kaufman's works for that matter, succeed because they have a clear emotional direction and stick to that angle. Other unusual takes on the kaiju genre like Bong Joon-ho's The Host managed their lighter approach because they never deviated from their initial intent. Instead of continuing in the tone of Colossal's successful early sections, Vigalondo loses focus and falls prey to damaging forced conflict and exposition.
3/5 stars.