Gillian Robespierre's (Obvious Child) sophomore effort is an unfortunate disappointment. Her stellar debut mixed awkward humor, real dilemmas, and a gentle romance, but Landline features very little of what made that film great. The new movie again stars Jenny Slate as Dana, a 30ish engaged woman, and her dysfunctional family, each member on the verge of a supposed crisis. She has caring but divided parents played by John Turturro (Barton Fink) and Edie Falco (Nurse Jackie) and an obnoxious teenaged sister Ali (Abby Quinn) who acts out at every turn.
This may be one of the first films to feature 90s nostalgia. We've seen many movies with bell-bottomed characters in the 70s, the big hair of the 80s, but few have recreated the 1990s. The denim-heavy clothes, cassette tapes, and titular landlines all reference the decade but what is surprising is how little the time period matters. Beyond the absence of cell phones and social media, the characters talk and behave in such a modern way that it is easy to forget when the film actually takes place. This makes the choice of setting a confusing one. It doesn't add any particular nuance to the story. It's not something that could have only happened in the 90s, so the setting was likely chosen to match Robespierre's own experiences growing up. It's nice to see a different choice for a period piece, but the not-quite-retro setting is only worth a few pop culture references and nothing more.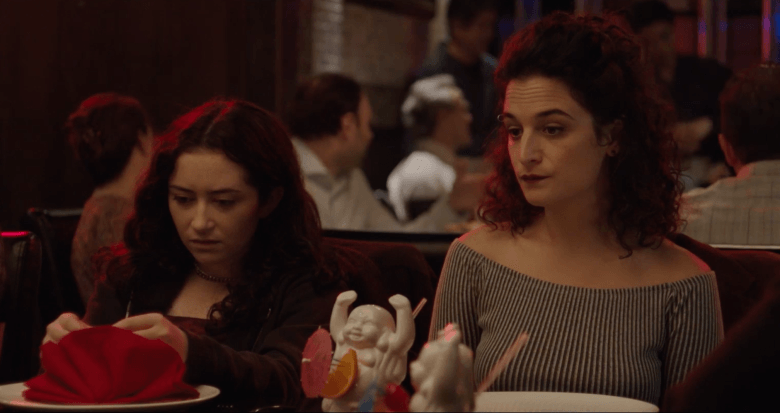 While her previous film was about one woman coping with the upheaval of her already scattered lifestyle, Landline centers on a family unit. The relationships and the mistakes one person makes are reflected through each family member. The parents, while physically together, are emotionally separated with the father having an affair with an unknown woman. The daughters are also distant and constantly argue with each other. Ali sneaks out at night, curses nonstop, and is completely opposed to anything her parents say. Dana, engaged to a loving fiancé, is having second thoughts about where her life is headed and takes out her frustration in arguments with her parents and Ali. The dialogue is realistic, but the sheer abrasiveness makes the characters unlikable. The way the family, particularly the daughters, cut into each other with their words is downright mean. The insults aren't played for humor, so the film becomes an incessant display of verbal abuse to people that they supposedly care about. It's an unwelcome look at the cruelty people can show to those closest to them.
Furthermore, the mistakes they make are unprovoked. Characters risk loving relationships for momentary pleasures and mistreat each other for no apparent reason. These are relatively affluent people with no physical, mental, or financial issues to speak of, but they still create problems for themselves as if they have been through some kind of trauma. In Moonlight, the main character had to deal with growing up with a poor, crack-addicted single mom in a crime-ridden neighborhood intolerant of his orientation, yet he complained less than these people do. Their pleasant, upper-middle class lifestyle is apparently too easy so they make unnecessary conflict. Ali screams at her mom for asking about her college applications and Dana gets upset with her fiancé for calling her after she abruptly moves back to her parent's house. These aren't relatable or even meaningful problems and without that, the film remains a showcase of unpleasant, self-destructive characters oblivious of their own privilege.
2/5 stars.