There are few things as uncomfortable as being in the middle of a couple's fight. The deep-seeded differences and inescapable feeling that the argument is just one of many can be agonizing. Zoe Lister-Jones (New Girl) has used this difficult scenario as the foundation of a comedy-drama. Anna (Lister-Jones) and Ben (Adam Pally) are a 30-something married couple stuck in a rut. Their friends are having children and rewarding careers while they have dead-end jobs and are constantly at each other's throats. Instead of repeating the same fight over and over again, they decide to start a band and use their quarrels to write music.
As ridiculous as it may seem, the act of singing their frustrations is rooted in psychotherapy. Famous marriage counselors like Esther Perel use similar techniques like blind folding and roleplaying in couple's therapy to deal with recurring issues. The use of song here abstracts their conflicts from their deeply personal roots and allows the leads to express themselves without descending into damaging attacks. It's amazing to see how these makeshift therapy sessions allow the couple to address their marital problems.
The songs themselves won't hold up to repeated listens. They have a very deliberate garage band crudeness without the benefit of a music producer. These aren't the playlist-worthy tracks of a John Carney movie. While the singing talents of Lister-Jones and Pally are surprisingly adequate, the songs only work in the context of the film to provide humor and healing. The live performances and amateur lyrics are sometimes clumsy but always evocative of the irritating minutiae of a relationship and the positive effect the band has on their marriage is heartwarming.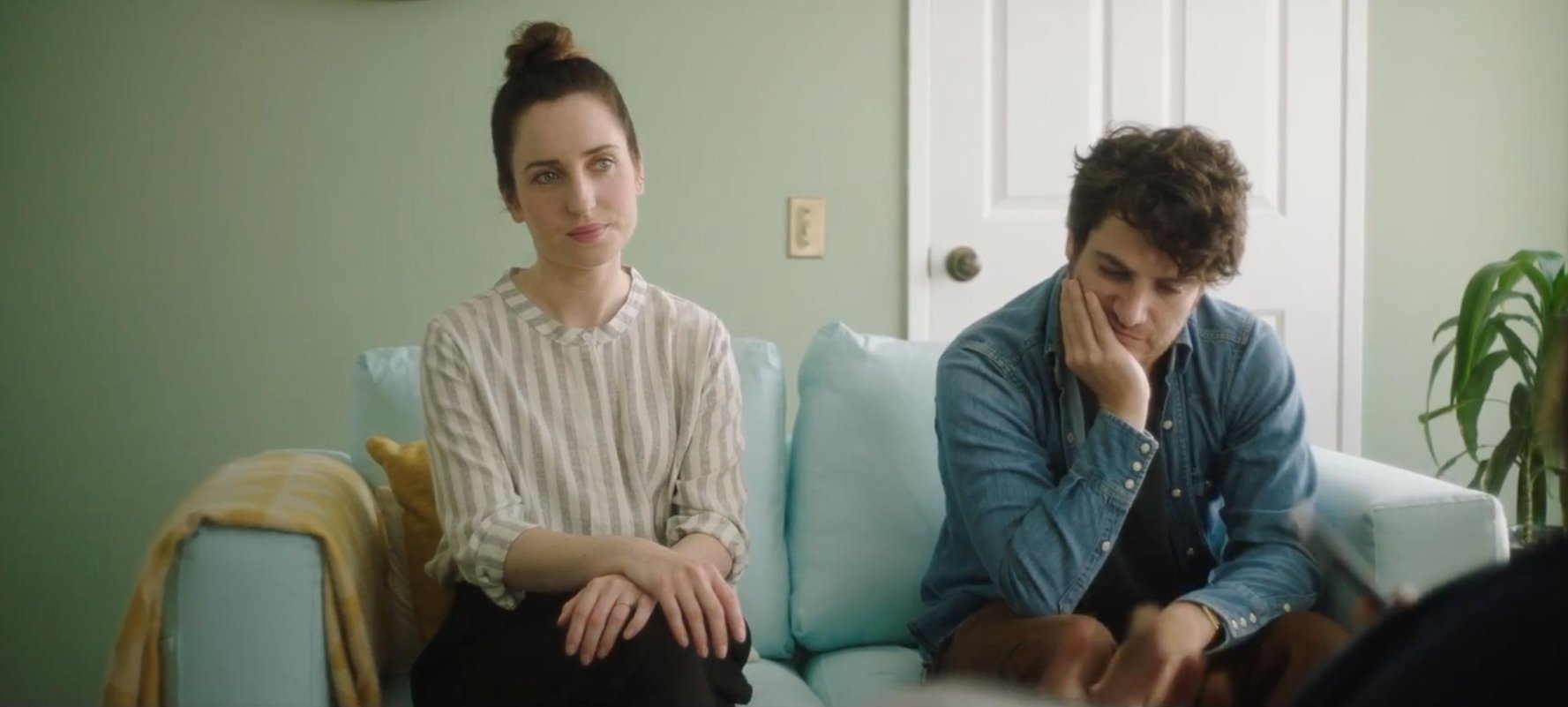 The sheer amount of humor is joyous. Lister-Jones turns everyday arguments into comedic commentary on relationships and the differences that divide men and women. She is acutely aware of the minor mannerisms that escalate into larger fights and her chemistry with Pally is perfect. They have the familiarity needed to make both their affections and insults feel authentic. Fred Armisen (Portlandia) as their strange neighbor and drummer kills every scene he is in. His unnervingly agreeable nature is a delight in the midst of Anna and Ben's often explosive interactions and leads to plenty of awkward laughter.
Lister-Jones has stated that her goal was to make "a [John] Cassavetes comedy" and she has mostly been successful. She effectively examines both the male and female perspective in the central relationship without favoring either side. She impressively handles emotional scenes, but does make some larger generalizations about each gender. She posits that most men have a certain type of thinking process whereas most women have a completely different method, going as far as saying that they should be considered different species. The nuances of this comparison are well thought out, but it neglects the similarities that join the genders. Lister-Jones never considers the common ground between men and women which can sometimes make her assertions feel slightly reductive and incomplete. Still, Band-Aid remains an absorbing and consistently hilarious directorial debut.
4/5 stars.