In a small village outside Seoul local policeman Jong-Goo (Kwak Do-won) is called to a crime scene. A previously normal man has viciously killed his family through repeated stabbing. The trend continues as more crimes occur featuring average people suddenly going on murderous rampages and losing their minds. All of these events began soon after a Japanese man (Jun Kunimura) moves into town and rumors spread in the village that he is somehow connected to the murders.
The Wailing starts out as a standard police procedural but soon hints at a supernatural bent.  The culprits of these horrific crimes have a feral quality, growling and convulsing as if possessed. Some are seen prowling naked in the night before the crimes are committed. When people begin indicting the Japanese man for these horrendous happenings, they claim he has cast some sort of spell…literally. This is a setting where demons and witchcraft are very serious concerns.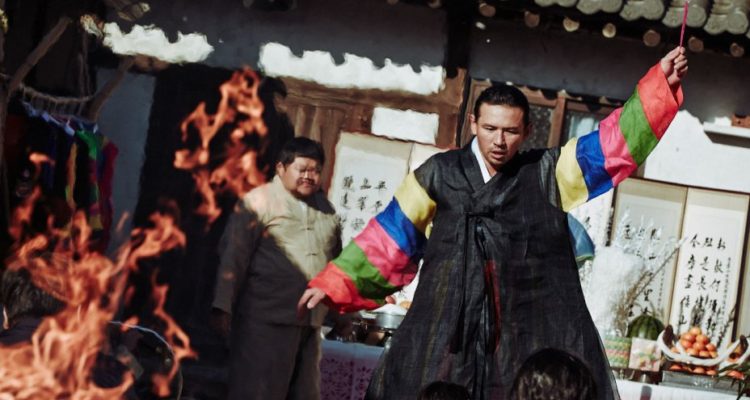 The film establishes several potential sources of unnatural intervention. The Japanese man, a Christian priest, and a shaman all have their own rituals and beliefs. Whether it's holding a cross, sacrificing animals, or dramatic rites, each custom is portrayed in the same alien fashion. As the film progresses Jong-Goo must decide who to believe, but there is no clear answer. They all seem strange in their own way and the confusion only adds to the heavy dread already present.
There are strong resemblances to Bong Joon-ho's masterpiece Memories of Murder. A somewhat competent cop, a series of murders in a small town, and near constant rainfall. Director Na Hong-jin (The Yellow Sea) uses the torrential precipitation to demonstrate the hopelessness of the situation. He also contrasts the idyllic countryside filled with lush forests against the gruesome murders. Like Bong, Na skewers the desire to describe complex issues with clear, understandable principles. The townspeople try to attribute the crimes to religious beliefs as a method of deflecting reality. What is the better conclusion, that a person has been cursed or that they knowingly committed a heinous crime? As Jong-Goo navigates this spiritual struggle, director Na expertly balances the human fears with the magical possibilities.
4/5 stars.