Whit Stillman's fifth feature in 16 years and his first period piece proves to be one his strongest efforts. Adapted from a novella by Jane Austen, the film follows Lady Susan (Kate Beckinsale; Underworld), a once wealthy widow, navigating the circles of high society in late 1800s England. Her high lifestyle is provided by the friends and family members she moves between as she uses her social skills to secure a better life for herself and her 16 year old daughter Frederica (Morfydd Clark).
Calling them social skills is putting it lightly. Lady Susan has the gift of gab and is fully aware of her powers. She lies, feigns emotions, and uses every form of manipulation possible. With a few exceptions, she is able to cast a spell over her acquaintances to have them do her bidding. Her plan to maintain her posh life is to wed her daughter to the wealthy, kind, but clearly idiotic man, Sir James Martin (Tom Bennett; PhoneShop), and seduce her young, wealthy brother-in-law, Reginald DeCourcy (Xavier Samuel; Twilight Saga: Eclipse) into marrying her. Unfortunately for Lady Susan, the rest of her in-laws are aware of her methods and do everything possible to prevent her engagement to Reginald.
Stillman has always been interested in high society. In his debut film, Metropolitan, he explored the lives of what he called UHBs (Urban Haute Bourgeoisie), young wealthy aristocrats, and his characters even spent time discussing various pieces of Austen's oeuvre. It's clear that he and Austen share a love of the inner circles of the upper class. He takes full advantage of the setup from Austen's book in creating his own vision. Stillman hones in on the minutiae of his character's lives. He mines the excessive formalities of the time for full comedic effect. Characters often are polite to the point of laughable awkwardness. Their desire to remain polite leads to overlapping pleasantries that always entertain.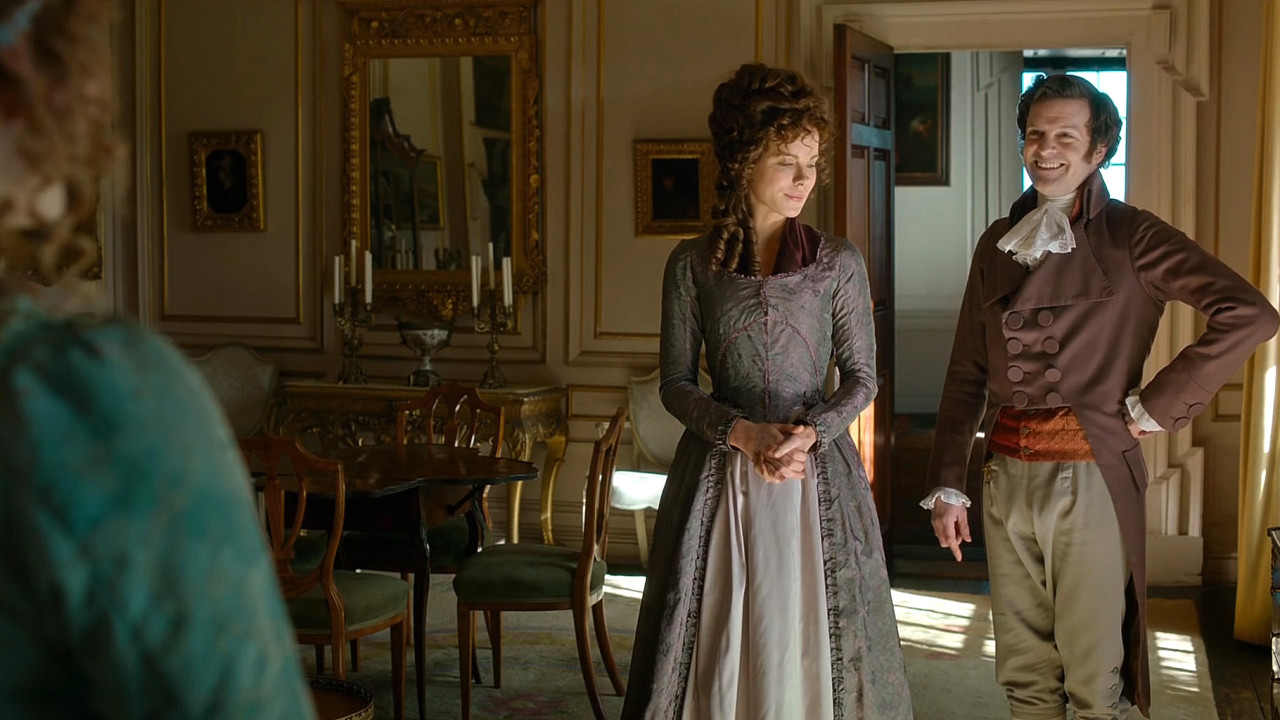 The best example of this is with Sir James. Like the character Thor from Damsels in Distress (a college student who still doesn't know his colors), Sir James repeatedly fails to understand even the most basic concepts. This combined with his jovial demeanor and desire to please cause several unnecessary – and hilarious – misunderstandings. He's a moron, but he's a sweet lovable moron that steals the show every time he's onscreen.
Lady Susan on the other hand couldn't be more different. Like Greta Gerwig's character from Damsels in Distress, she is a crafty manipulator. "Facts are a terrible thing", she tellingly says to her confidant played by Chloë Sevigny (American Psycho). She is so bought into her own lies that it becomes difficult to tell fact from fiction, but Beckinsale makes the character's pathological dishonesty believable. Just as Lady Susan manipulates the people around her, she is also able to entrance the audience. We know what she's doing, but she's too damn good at it for us to care.
Whit Stillman and Jane Austen have shown themselves to be the perfect pairing for a comedy of manners. Her wheelhouse of high society England melds seamlessly with his signature humor. He takes the prim, proper idiosyncrasies of the time and his lead's habitual chicanery and exaggerates them to the point of ridiculousness. Stillman uses Lady Susan's verbose, elaborate lies to keep everyone spinning, but the tailspin – and the continuous laughs that come with it – are just too enjoyable to stop.
4/5 stars.