This a brutal movie and not for the easily offended. Coming off a similarly violent debut, director S. Craig Zahler (Bone Tomahawk) has made his genre preferences clear. He's interested in the plain viciousness of violence and his newest film gives him ample situations to execute his vision. Vince Vaughn (The Internship) plays Bradley, a former boxer and reformed drug runner forced back into the trade to support his family after losing his job. When a drug deal with a foreign syndicate goes wrong, Bradley finds himself facing years in prison, but that is only the tip of the iceberg. Once inside, he is forced into a serious of deadly confrontations on the prison ground.
Vaughn proves himself to be a capable lead in the difficult role. It's one thing to play a criminal, but it's another to be a genuinely sympathetic one. Plenty of gangster films do this by idolizing the lead's actions and basking in their success and its copious financial rewards, but Zahler isn't about to glorify criminality. Bradley's crimes are forced by necessity, not desire. He returns to running drugs only after losing his job in a poor economy and the violence he begets in prison is a result of an unfortunate situation. Vaughn plays the character with a quick-thinking practicality. When placed in difficult position, he determines what action is needed, then immediately takes it. The complete lack of emotion or pleasure he gets from fighting others combined with his precarious circumstances, allow him to be likable despite his aggressive behavior.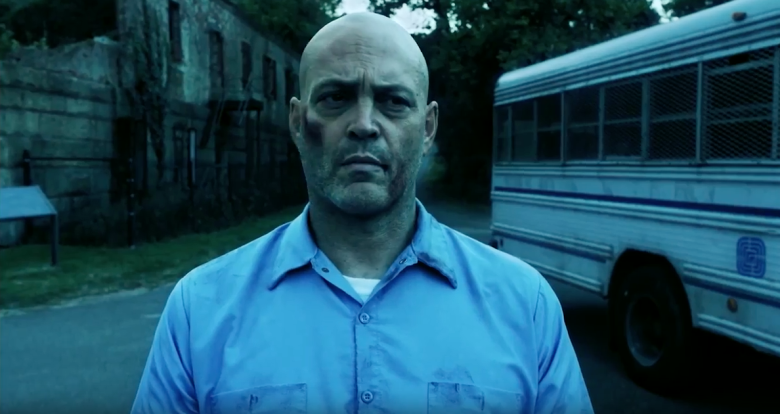 Zahler is a director that never turns his camera away from the action. Most films would cut on the impact of a punch or away from the results of a violent beatdown, but not here. Zahler takes great pride in offering close ups of the carnage others would avoid. The audience will flinch, but he doesn't. The hits here hurt. This isn't PG-13 combat and limbs are broken, shattered, and snapped in the wrong direction, revealing the bones underneath. Faces get even worse treatment. They are beaten, bloodied, and, in many cases, smashed, with the aftermath put on display throughout. As a director of fight scenes, Zahler does an admirable job. He favors wide, unbroken shots with tight choreography that feels grounded and efficient.
The violence can sometimes cross over into slight comedy as it escalates, but it doesn't detract from the film. It's a real joy to watch, wince, and, occasionally, clap at the brutality onscreen. The level of savagery almost pushes the movie into the grindhouse category, but Zahler isn't interested in campy thrills. His appreciation for bloodshed rests atop a solid narrative foundation. This puts him in a group of new filmmakers (like Blue Ruin director Jeremy Saulnier) that bring A-level talent to what could be B-grade genre films. His ability to balance character with action makes Brawl in Cell Block 99 a treat for both thriller and genre fans. The violent assaults and sympathetic lead create an enticing and delightfully grisly trip to prison.
4/5 stars.