In his first historical film, director Christopher Nolan (The Dark Knight) brings his talents to recreating the Dunkirk evacuation, where over 300,000 Allied troops, surrounded by Germans, were saved by hundreds of private boats that crossed the English Channel to rescue their soldiers. Rather than work with a linear story, Nolan splits the film's focus into three separate viewpoints: soldiers on the beach awaiting help, a civilian (Mark Rylance; Bridge of Spies) and his son taking their personal boat to assist in the evacuation, and a fighter pilot (Tom Hardy; Mad Max: Fury Road) providing cover to the trapped soldiers.
Nolan's strength as a writer has always been structure. Films like Memento and Inception, exploited their setup for suspense and the same happens here. The characters may be in different locations, but any building intensity is meant to be shared between them. Working with his regular composer, Hans Zimmer, he uses an ever-accelerating ticking clock as a metronome for the film's tension and audio bridge between the perspectives. As the film cuts between each set of characters, the danger they face is carried forward and builds with mostly fruitful results. There is an overreliance on raw decibel power to create a feeling of intensity, similar to the sound mixing in Interstellar, that is not as effective as desired, but the film succeeds in making each disparate scenario equally precarious.
In the past, Nolan's greatest weakness has been exposition. Needless, forced exposition that talks down to the audience as if the director's greatest fear is that the masses will not be able to keep up with his intelligence even though his films, despite their often deliberately convoluted structure, are fairly followable. In Dunkirk, he breaks away from his tendency to overexplain. The film features little dialogue, instead relying on images of warfare to propel the story. With a few exceptions, namely Rylance's seemingly sedated performance, he refrains from undue exposition.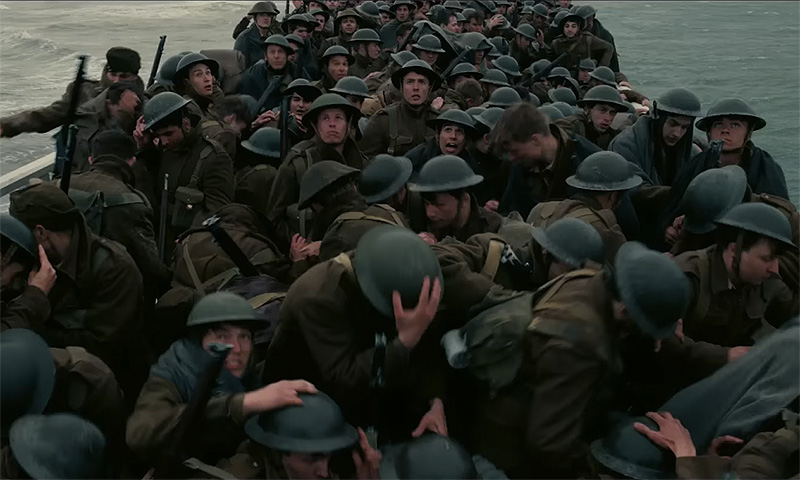 The lack of exposition also extends into character development. These are people whose names you will not know, even during the course of the movie. Perhaps this is a willful commentary on the war itself, claiming that the characters have little individual identity because they are each one of many who experienced the same trauma in WWII, but that does nothing to connect the audience to them. For all of Nolan's immense technical skills, emotions have always been a major shortcoming. Even the basic plot of many of his films can be reduced to men whose lives are disrupted by engaging with emotions. The missing attachment to the characters makes the film more appreciable for its technique rather than its heart.
Dunkirk is an amusement ride. That isn't necessarily a criticism, but it does accurately depict the film's effect. The characters and actual plot are either simple or deliberately downplayed. Instead, we are meant to take in the expertly realized period and effects in the moment. Nolan and his team have recreated the incredible scale of this moment in history. Countless troops appear to line the beaches without any suspicion of computer generated assistance. He continues his love of practical stunts by using multiple real Spitfire fighter jets and the same wing-side camera shots from the famous docking scene of Interstellar. While enjoyable, the emphasis on historical accuracy over feeling has the unintended consequence of making the film forgettable. Like even great rollercoasters, it entertains during its runtime then fades away as soon as the ride ends. Dunkirk is well-crafted experience, just not a particularly emotional or memorable one.
3/5 stars.