Somewhere in the middle of the woods, a father and his daughter live alone in what seems to be a permanent camp. It is soon revealed that Will (Ben Foster; Hell or High Water) and Tom (Thomasin McKenzie) are actually living in a national park, far off the beaten path to avoid contact with patrons. They are mostly self-sufficient, taking only infrequent trips to the nearby city for basic tools when necessary, until Tom is spotted by a runner. The authorities later arrive to take them away and they are placed into state-sponsored housing and assistance programs. For the first time in her life, Tom is exposed to society and the possibilities it brings.
The pacific northwest setting envelops each scene. The trees tower over the cast with the tops far out of frame. They create a harsh beauty to Will and Tom's living arrangements. The film doesn't shy away from the rain either. The characters are palpably soaked and their camp feels worn with use.
As Will and Tom are taken in by government agencies, director Debra Granik (Winter's Bone) makes a small statement on their effectiveness. While their accommodations are good and the people assisting them care for their well-being, the mandated processes are shown to be ineffectual. Will has to take a comically long survey (400+ questions) that he is not mentally prepared for and Tom is immediately separated from him, her only companion. It may not be the focus of the film, but this slight commentary is welcome.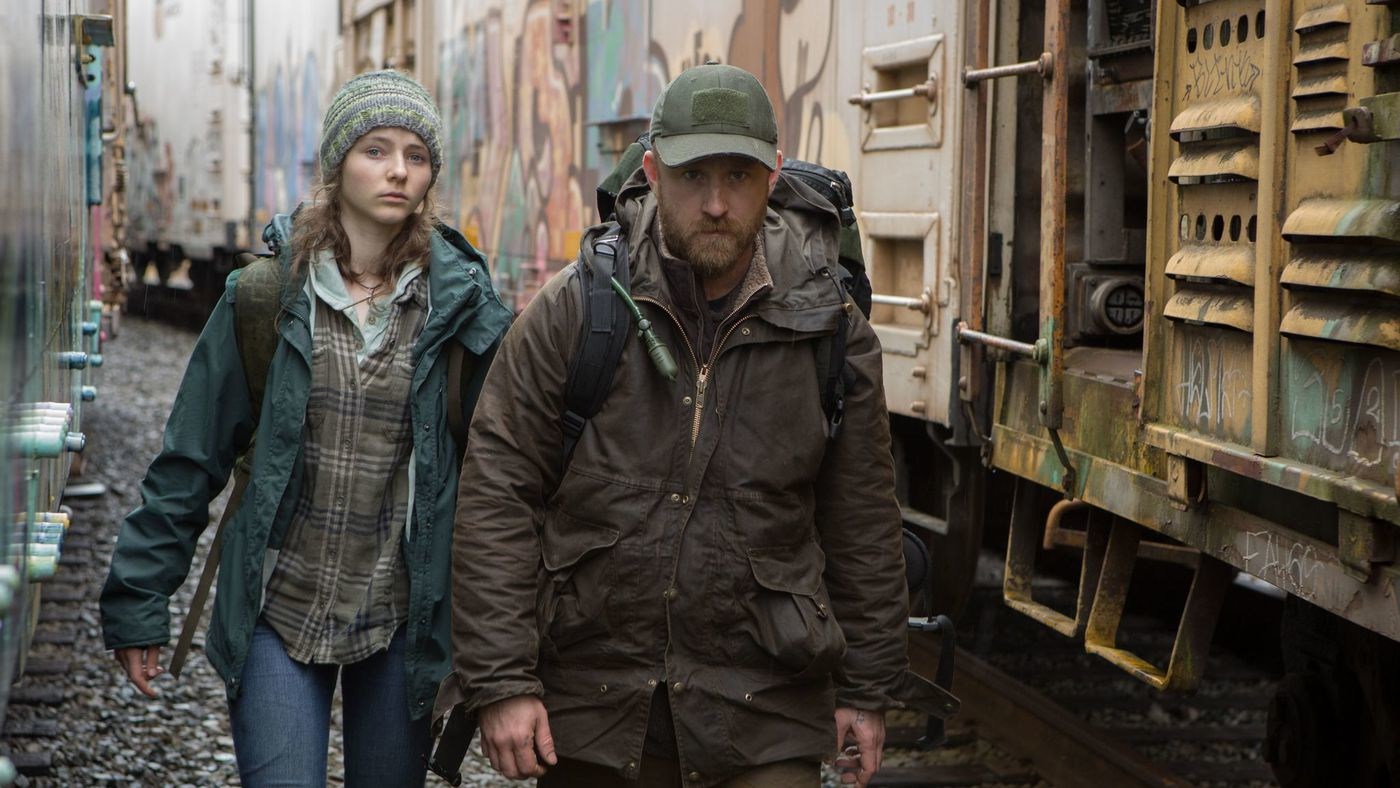 So often films examine parents dealing with difficult children, but here Granik is interested in the reverse scenario. As Will pulls them out of their generous state sponsored housing into more precarious situations, his actions raise doubts in his previously obedient daughter. Tom starts to realize that there is something beyond a desire to live outdoors going on with her dad. He has some sort of compulsion to get away from society and it soon revealed that Will is a veteran, likely suffering from PTSD. This is incredibly complex subject matter, but Granik is able to weave through it as Tom gains a better understanding of what she needs versus what her father needs.
Leave No Trace is a film about quiet, gradual realizations. Tom's growth into an adult is a steady change. McKenzie's performance is subtle and understated as she takes note of each red flag. Her arguments with her father are compassionate, honest pleadings rather than the shouts of an angsty teen and the composure she displays is impressive, as are her interactions with her father. Foster and McKenzie exhibit the unspoken understanding that comes with close relationships and their affection for each other is obvious. Typically, when there is a story of a man alone with his daughter in isolation there are heinous actions involved, but not here. In the face of Will's PTSD driven actions, they are still a loving family. As Tom matures and must reevaluate her relationship with her traumatized father, hard, adult lessons are learned. Granik succeeds by making Tom's journey to understanding her father gentle and nuanced.
4/5 stars.