Referencing one of the most devious characters in literature is a bold choice for a film, but, thankfully, the title isn't a spoiler. That being said, the lead character Katherine (Florence Pugh) does share many traits with the famous femme fatale. She is a young woman in England during the mid-1800s married to an older man. The marriage provides her with stability, but not affection. Her husband is entirely uninterested in Katherine, emotionally or physically, and spends his time away for business, leaving Katherine to her own devices.
The setting echoes Katherine's lonely life. Her house, while huge, feels stark and empty. This isn't a Merchant Ivory film where homes are filled with countless knick knacks. Despite her husband's wealth, the furnishings are minimal and she is the only non-servant residing there. She is initially forbidden from leaving the house, but even when she does the outdoors offer no reprieve. The landscape is barren and desolate. It only highlights her increasing isolation and how meaningless she feels her life is.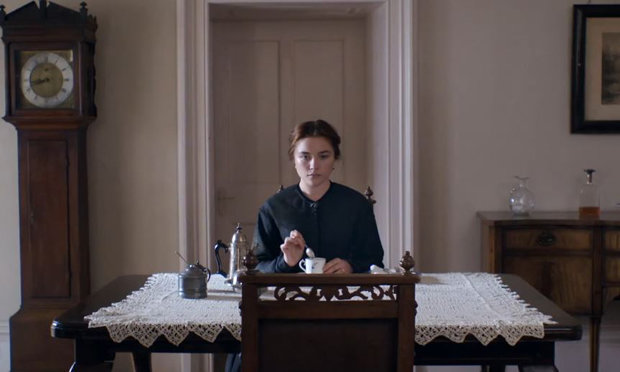 Pugh makes the perfect Katherine. A relative newcomer, she embodies the ideals of a woman of her time while believably progressing into aberrant behavior. Many actors playing characters in the past have an incongruous look. Their body and features can be too sculpted for the simpler time. Pugh, while still attractive, has a more era appropriate frame. In her blue dress, she is the image of upper class England. As takes extreme measures to control the direction of her own life, her ruthless determination comes through. Pugh's tenacious performance causes Katherine to be an intriguing character, even as her actions become heinous.
Director William Oldroyd makes some interesting casting choices. Improving diversity in film has fortunately entered public discussion as of late, but period pieces have always been an issue. How do you incorporate actors of different races when a film's setting wouldn't have allowed it? Oldroyd chooses anachronism which results in a welcome change. There is some initial confusion when actors of color are shown in positions unexpected for the time, but it quickly fades to the background. Unfortunately, the plot results in negative outcomes for most of the non-white cast which is alarming. It's impossible to speculate on whether this was coincidence or not, but either way it gives the film an unwelcome nastiness.
Everything changes for Katherine when she meets one of the men working on her land and begins an affair with him. Sebastian (Cosmo Jarvis) finally brings some excitement into her empty life so when her father-in-law returns to scold her and beat Sebastian, she does what she believes is necessary to preserve her only passion. This is where the film hits its stride. Lady Macbeth proves to be about the limits of selfishness and, later, self-preservation in the face of accepted morality. The lengths to which Katherine goes are equal parts amusing and mortifying. As she descends deeper into depravity, the cause of her actions comes into question. Is this the result of her failed marriage? Loneliness? Or maybe this is just the manifestation of an impulse already inside of her? Oldroyd hints at answers for each of these questions but prefers to luxuriate in Katherine's increasingly extreme measures. Pugh's unyielding performance and the almost transgressive narrative turns make Lady Macbeth a wicked drama with a remarkably sinister lead.
4/5 stars.