At some point in life, we look at what we have and wonder, "What else could I be?" It's natural to compare ourselves to others and think about the alternate lives we could have led. Written and directed by Mike White (Year of the Dog), Brad's Status is about a middle-aged man doing just that. When Brad (Ben Stiller; Zoolander) takes his son Troy (Austin Abrams; Paper Towns) to visit colleges, he starts to think back to his own college days and where his close group of friends ended up. One is a political commentator and author of several best-selling books, another owns his own hedge fund, and the last sold his tech company and retired to Hawaii at the age of 40. Brad, on the other hand, started a small non-profit and lives a normal life in Sacramento with wife and son.
Brad's Status is the quintessential midlife crisis film. Brad feels like he missed his potential and his comparisons to the illustrious lives of his college friends are relatable because of his chosen profession. While others chose the money and power of politics, finance, or tech, he chose service to others and is now living through the consequences of that decision. The central question is not only what could he have done to become successful, but rather how could he have done the most good. Does his non-profit, scraping together financing from reluctant donors, make a difference? Brad's only employee turns in his two-week notice and remarks "I'd rather make a lot of money and donate it than beg people for their money." The realities created from a life of service versus self-interest and how decisions made for altruistic reasons can lead to middling personal outcomes is the film's most sympathetic angle.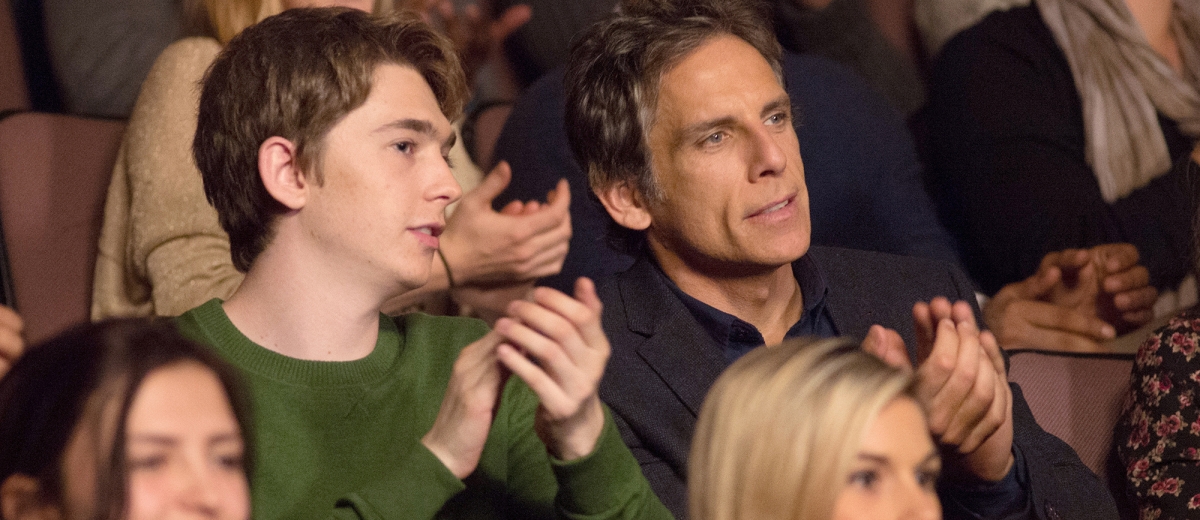 To a certain extent, Brad's struggle is an exercise in solipsism. He only views the world in terms of how it affects him, sometimes even forgetting about his loved ones. This disregard can become callous when he looks at the effect of his relationship with his wife. One of his friends had a career-focused, ambitious spouse that, in Brad's mind, forced his friend to push himself further in comparison. Brad's wife is a loving, supportive partner but he wonders if her contentedness with their middle-class life held him back. This is the kind of reasoning that can often make Brad an unlikable character. He can resort to blaming others for his own failings. When issues with his personal success turn outward, it makes him seem less like tragic figure suffering for a noble cause and, especially when he is ungrateful towards his caring wife, more like a self-centered asshole.
Thankfully, the supporting cast eventually calls Brad on his bullshit. It's a relief when even the college aged characters burst his bubble of self-absorption and point out his narrowmindedness, but his son is the main catalyst for change. Despite his age, Troy is a calm, self-assured individual and without his father's crippling self-doubt. The realistic interplay between father and son is heartwarming as Troy's confidence gives his dad hope and purpose. Regardless of his current position in life, Brad still made an impact on the world through raising his son. Some of the conclusions White comes to may be cliché, but his belief in the value of family and parenthood over material wealth still holds weight. It may not overcome a degree of navel-gazing, but, in an age of increasingly exhibitionist behavior, Brad's Status is a worthwhile reminder of what defines true success.
3/5 stars.