With a weekend all to himself, Dave (Nick Thune), a struggling artist, creates an elaborate cardboard maze in his living room. When his girlfriend Annie (Meera Rohit Kumbhani) returns, he tells her that he has been inside for three days and is unable to get out. Confused, she calls his friends over and they enter the maze only to get lost themselves.
The film's most distinguishing trait is the look of the maze. It's a twisting, handmade structure. First time director Bill Waterson created elaborate sets that are completely unified in their aesthetic. Inside the maze, everything is made from art supplies, including animals, monsters, and, occasionally, human parts. Characters bleed confetti and silly string instead of blood. The inventiveness and commitment to the aesthetic are the highlight of the film as each additional leg of their journey brings new designs. Watterson is able to get a surprising amount of variety from a limited set of materials by using different colors and patterns that prevent the maze from becoming plain. The standard obstacles, including booby traps and even a minotaur are present, but the corrugated look provides a fresh spin on each element.
The maze isn't the only thing that appears to be built out of cardboard: the acting is just as stiff. Thune and Kumbhani have stilted, sometimes cringe-inducing, delivery and lack any noticeable chemistry. They seem like amateur actors in front of the camera for the first time. The script is no help either. Most characters are underwritten and the director relies on exaggerated reaction shots for development. The supporting cast is mostly one note. They are supposed to provide comic relief but are but each only has a single discernable, usually self-consciously quirky, trait that leaves them either forgettable or annoying.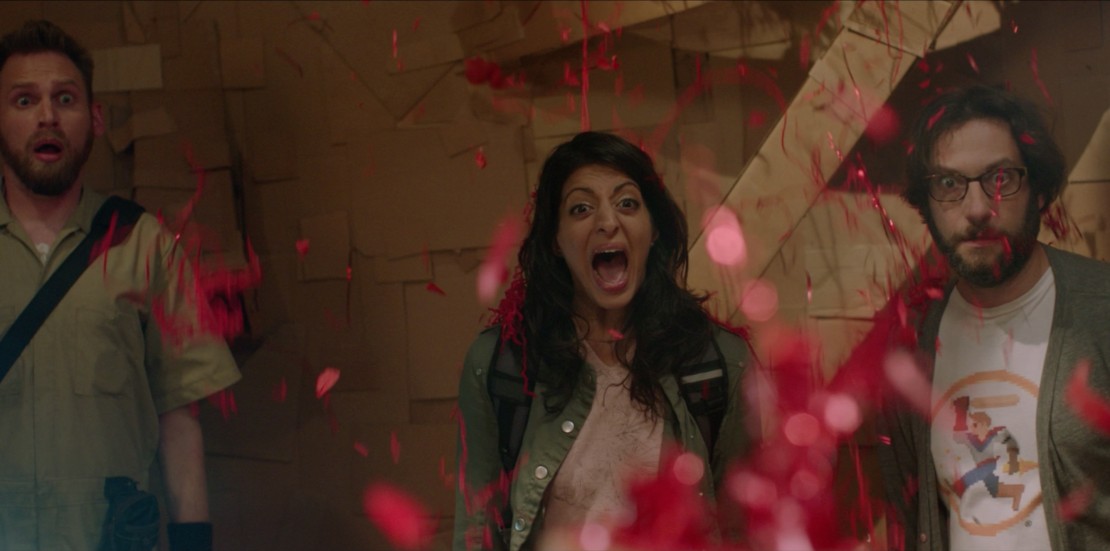 The central metaphor is that of art being an all-consuming endeavor. Dave is described as someone who has never been able to finish any of his artistic goals and is still being supported by his parents despite being in his 30s. The maze is both his greatest creation and his burden. He doesn't want to leave the maze because he hasn't finished it yet and it is the only thing he feels he has come close to completing. The conclusions here are obvious, that an artist's work envelops their life and that of their loved ones, and the film never goes beyond commentary that has already been done before. There are many, better films that have examined the psychology behind the tortured artist trope. By devoting its focus on the maze itself, the film is never able to develop Dave and his artistic struggles.
Watterson's clear influence is the art-and-craft visuals of Michel Gondry (Eternal Sunshine of the Spotless Mind), but he lacks the ability to match Gondry's emotion. In Gondry's films, his elaborate designs are always reflections of a character's creativity and mental state. They reveal as much about the character as any line of dialogue. The maze and its inhabitants don't have this connection to Dave. As creative as they may be, the designs in the maze are used as pure spectacle which leaves the film feeling hollow. The poor emotional development of Dave's struggle and the stiff performances leave the film more like a maze found on the back of a daily newspaper: quick, obvious, and unsatisfying.
2/5 stars.