With earbuds and a pair of not-particularly-fashionable sunglasses, the juvenile Baby (Ansel Elgort; The Fault in Our Stars) is not who you'd picture as a getaway driver. Edgar Wright's (Shaun of the Dead) newest film is about Baby doing one last job for a local crime boss named Doc (Kevin Spacey). Baby has a ringing in his ears so he listens to music to drown out the noise, setting each job to a particular tune. Baby is his best driver so, naturally, when he tries to quit after falling for a local waitress, Doc threatens him until he is forced to participate.
The supporting cast are amusing exaggerations of well-worn tropes. Spacey has played this type of role before and is completely comfortable as the crime boss. Jon Hamm (Mad Men) is charismatic as an overconfident criminal that shares Baby's love of music and Jamie Foxx (Collateral) is menacing as the loose cannon. Unlike most portrayals of a similar role, Foxx's unpredictability comes from a place of caution. Instead of stupidly taking risks, like many would, his extreme actions are preventative measures. His violence is a way to ensure his own survival. These three add some needed flavor to the otherwise familiar setup.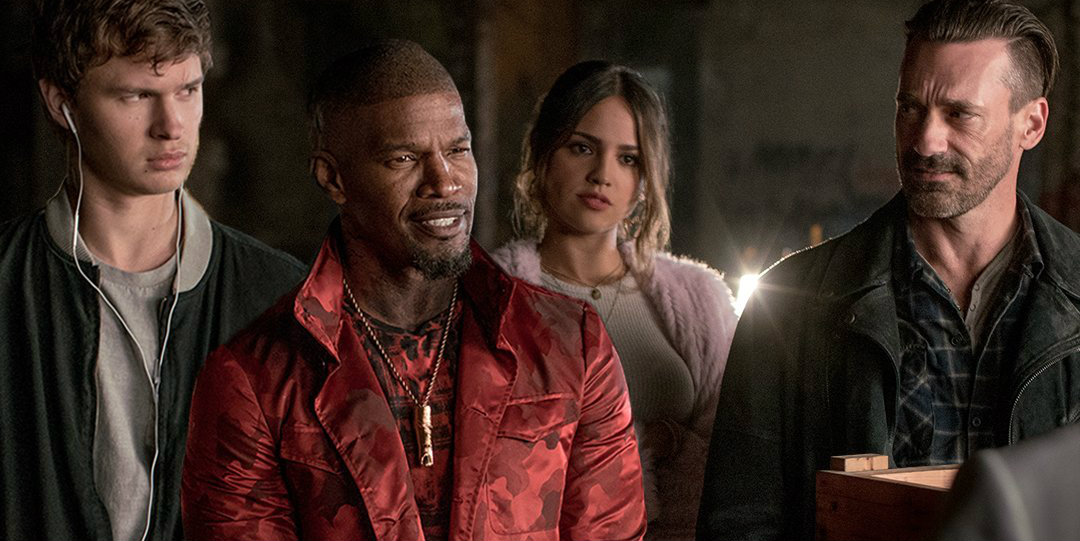 Wright inserts his presence into every frame and brings a boisterous energy to the film. Even scenes of a character walking are given an extra boost. His camera circles around the cast, always moving and seemingly dancing along to the music. The action scenes also have this spirit. Baby's drifting vehicles come dangerously close to the camera as it pulls away just before being run over. There is a controlled recklessness to the car chases. As Baby slams the emergency brake to gracefully weave through a set of obstacles, it becomes clear we are in the hands of some master stunt choreography. Wright separates these scenes from a typical car chase with his, and Baby's, playfulness. Baby's disconnect from the dangers of getaway driving in favor of ensuring he is listening to the right song make the crashes and gunshots feel like background noise to the fun he is having. Thanks to Wright's deliberately light tone, the action brings more smiles than tension.
This may be the longest music video mashup ever made. If you thought Guardians of the Galaxy Vol. 2 went overboard with its soundtrack, Baby Driver will make it seem tame in comparison. The narrative conceit of Baby having tinnitus and always listening to music allows Wright to cut every scene to the song of his choice. His taste spans genres and time periods to form an eclectic collection of hummable tunes. The songs become as much of a character as Baby himself which can at times be a double-edged sword. As entertaining as it is, Wright's near-constant use of songs can shift the attention away from the characters, making the audience more involved with the music than the plot. In fact, it's easy to lose track of the greater motivations or narrative progressions when you're so preoccupied with enjoying the music. The events onscreen can at times become like filler visuals with only the action scenes grabbing back your attention. By favoring its tunes over its plot, Baby Driver is a light spectacle with a varied and energetic soundtrack.
3/5 stars.