The WWII/Holocaust movie has been explored ad nauseam but New Zealand director Niki Caro (Whale Rider) has brought her attempt to standout within the crowded genre. The film covers the true story of Antonina (Jessica Chastain; Zero Dark Thirty) and her husband. They are the owners of the Warsaw Zoo and when Germany invades and their animals are taken away, they use the extra space to smuggle Jews from the ghetto. Daniel Brühl (Rush) plays the German head of zoology that takes command of their zoo and has his eyes on Antonina as well.
With so much centered on the lead, Caro couldn't have cast a better actress. Chastain's Polish accent is jarring at first, but it never falters and becomes more natural as the film continues. She is completely at ease with the animals, large and small, and her gentle nature make the role believable beyond the problematic script. This is helped by the decision to only use live animals. It allows a natural chemistry that wouldn't have been possible with computer generated effects and makes the setting feel like a real zoo.
The film's major failing is that Antonina is too one dimensional. Despite Chastain's committed performance, the character is unintentionally simplistic. Instead of being a pure, innocent person in a world where humanity is lacking, much like Chastain's character in The Tree of Life, she can come off as weak, short-sided, and childish, particularly early on. There are a few moments of strength but she spends most of the time at the mercy of others and when the situation worsens, her actions are unrealistic for any adult in the same circumstances.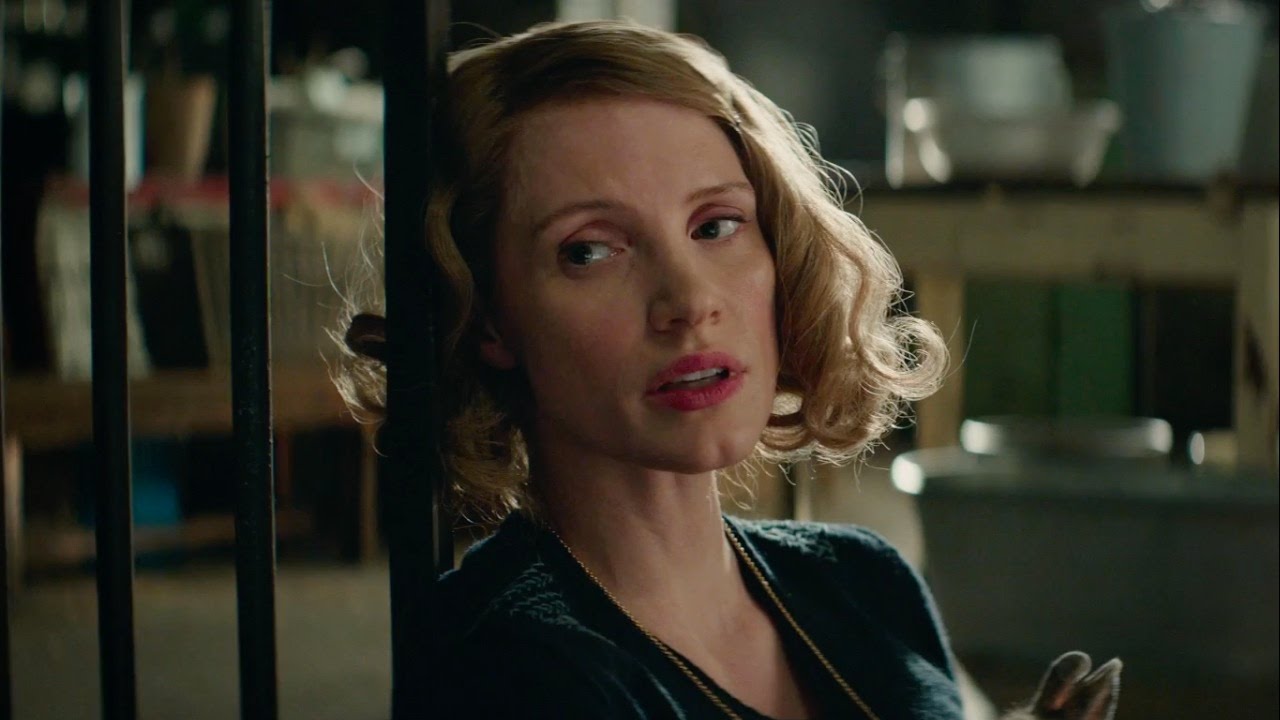 Antonina is supposed to be a hero, and her real-life efforts were truly deserving of that descriptor, but the film underplays her involvement. When her husband first suggests bringing Jews from the ghetto to hide in their zoo, she protests on grounds that it would put them at risk. While this is a very reasonable fear given the consequences of the period, it does nothing to cast Antonina in a heroic light. When the German troops first invade Poland, she seems more concerned with keeping her animals than the people that are suffering. Her focus on animals before humans makes her a myopic character and her initial dissent against the rescue efforts portray her as more of a bystander than an active participant in the noble acts.
The director has claimed that this is a different type of Holocaust story. It's true that few movies set in this period or about war examine female-led stories, and even fewer still show them as brave. The trouble is that the script has held too closely to established tropes of the genre. There is very little that separates this film from the glut of similar stories. The biggest surprise is that it is opening in March instead of the end of year release expected for biopics. Furthermore, the script doesn't give Antonina the strength she needs. She is often shown as more submissive than courageous and that prevents her from becoming the icon she so clearly deserves to be. Caro's intent is admirable and Chastain's performance is excellent, but they are held back by the underwritten lead role and familiar biopic dressings.
3/5 stars.