Filled with professional intellectuals and set in New York City, Maggie's Plan initially comes off as a misplaced Woody Allen comedy but soon reveals itself to be a much kinder film than most of Allen's body of work. Maggie (Greta Gerwig; Frances Ha) is a university faculty member intent on having a child, regardless of her current relationship status, until she enters an unexpected relationship with anthropology professor John (Ethan Hawke; Before Midnight). Unfortunately, John is married to Georgette (Julianne Moore; Still Alice), a needy and career focused fellow professor at a different school. As a result of their affair, John divorces Georgette and marries Maggie which leads to the child Maggie had been hoping for. After a few years of marriage, it becomes clear that Maggie and John are no longer working out, but instead of leaving like a sane person would do she creates the titular plan. Maggie notices that he still spends hours talking to his ex-wife and realizes that Georgette was indeed right for him. Together the two women create a scenario for Georgette and John to meet and hopefully rekindle their feelings for one another.
In a film with otherwise solid acting, Moore delivers one of the most hamstrung performances of her career. She has proven herself consistently reliable in a wide range of roles from an adult film star in Boogie Nights to a professor in Still Alice, but here she crashes and burns underneath a repulsive accent. Where is she supposed to be from…England? France? Germany? Is it just a speech impediment? Depending on the specific scene it could be any of those choices. Director Rebecca Miller (The Private Lives of Pippa Lee) was likely aiming to make Georgette appear more sophisticated but the gimmick is entirely unnecessary. Moore's acting alone would have been convincing enough, but saddled with an accent that would make Tommy Wiseau jealous, her delivery detracts from an otherwise well-written character.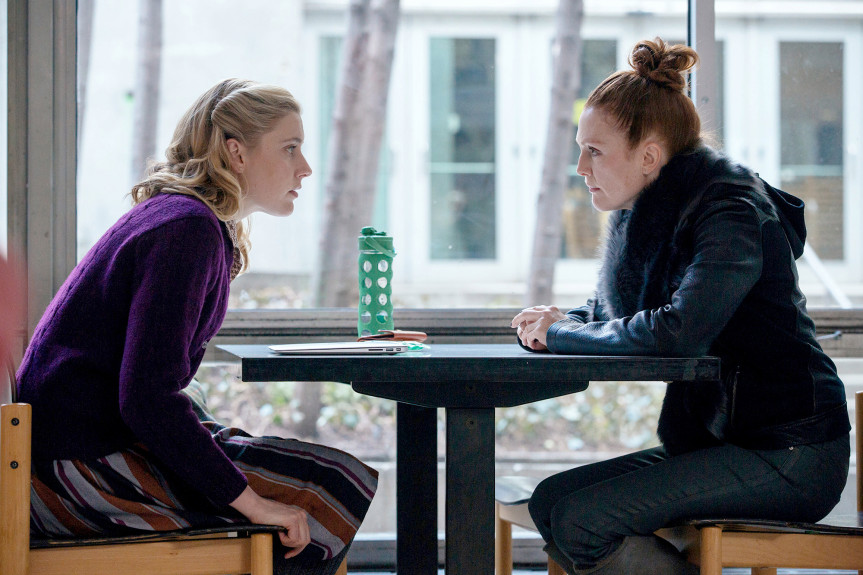 Conversely, the character of Maggie is always enchanting. Her attempts at almost Machiavellian manipulation are softened by Gerwig's performance as she imbues Maggie with a well-intentioned naivete. Maggie is not scheming to absolve herself of latent guilt about entering a relationship with a married man, but rather she's genuinely trying to create what she perceives as the best outcome for him. Even as things go awry, she never blames anyone, never holds grudges, and instead compensates by taking charge of other people's responsibilities. As she sacrifices her own desires to help others, it becomes clear that Maggie's problem isn't that she is too controlling, it's that she cares too much about others.
Her empathy, even at her own expense, carries the film. The other characters are each selfish in their own way, but Maggie never has any personal goals beyond a strong relationship with her daughter and every scene with her toddler further exemplifies her affection for those around her. Just as a mother restructures her life for the betterment her child, Maggie adapts herself to take care of her loved ones. She doesn't always have the most logical methods, but her heart is in the right place as she suffuses the film with her blissfully unaware charm.
4/5 stars.