Known for his video essays dissecting the style of other filmmakers, first-time director Kogonada brings a unique voice and eye for images to his debut picture. Two people find themselves intersecting in Columbus, Indiana, a center for modernist buildings. A Korean man, Jin (John Cho; Harold & Kumar Go to White Castle), is forced to come to the city when his father, an architecture professor, has a medical emergency. He meets Casey (Haley Lu Richardson; The Edge of Seventeen), a young architecture enthusiast delaying her college education to take care of her unstable mother. They begin meeting regularly as Casey shows Jin her favorite buildings in the city.
As the leads of the film, Cho and Richardson form a believable companionship. There is a hint of romantic feelings between them, but the film never makes them explicit. This is a relationship closer to that of Once than a typical romance. Richardson plays Casey as a bright, curious young woman that cares so deeply about her mother that she would neglect her own desires, but unfortunately Cho can't match her performance. His readings as Jin are often stilted as he tries to relate to Casey, but their similar situations are enough reason to justify their bond. Both characters are trapped in Columbus by a parent and their candid conversations while surrounded by beautiful buildings become a gentle form of mutual therapy.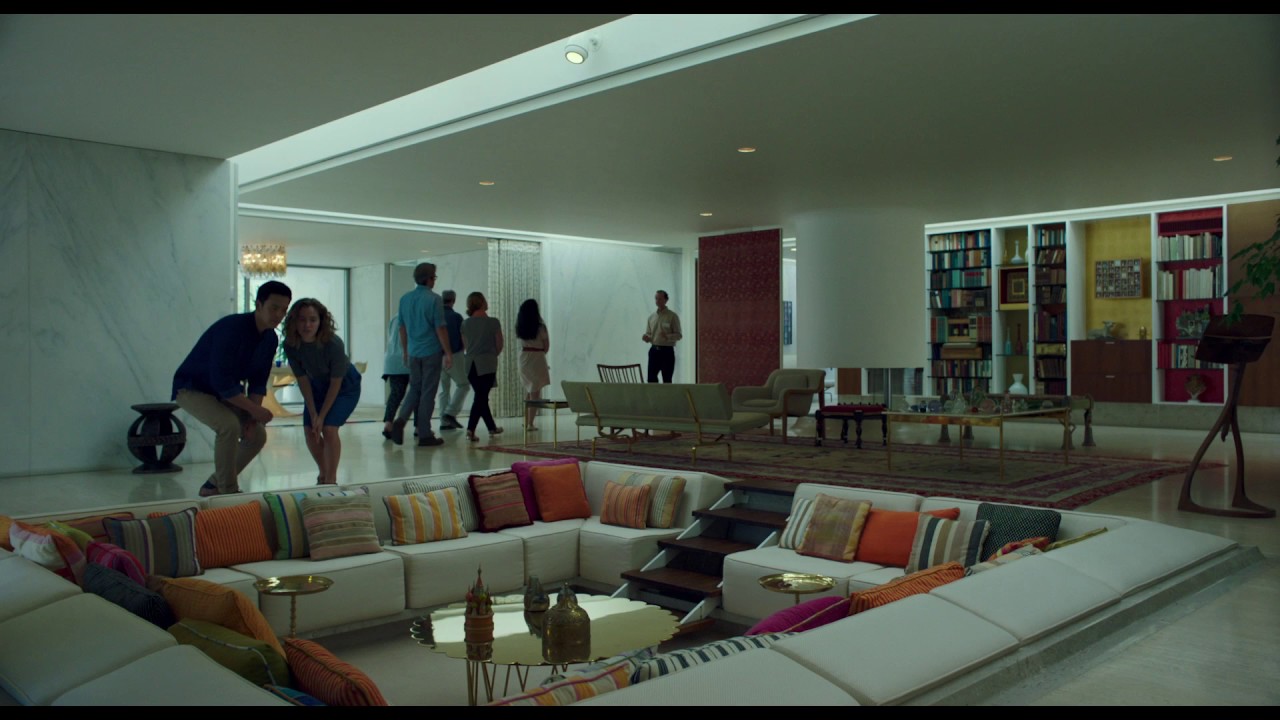 Kogonada revels in the modernist architecture of the city. He relies on his fixed, wide-angled camera to allow the audience to dwell in the environments and heavily incorporates shots of building exteriors as connective tissue between scenes. Even though the locations are immaculate with each piece of fabric and furniture precisely chosen, they never feel sterile. He frequently uses symmetry in his framings and one-point perspective that funnels the viewer's attention deep into the image, similar to the compositions favored by Edward Yang. For Kogonada, each plane of the image is of value and action is frequently placed at multiple depths. There are no flat backgrounds that only provide pleasant scenery here. Kogonada's multidimensional images have a still, contemplative beauty.
There are several points where the director uses dialogue to reference his intents as a filmmaker. Referring to their dinner, Casey's mother comments that it needed more spice to which she replies, "I was going for something a little more subtle." In another scene, a librarian posits that people not being interested in reading is "…not a crisis of attention, but a crisis of interest." With each of these lines, Kogonada appears to be describing his own style. The film has a subtle tone and may not have enough overt emotion to keep everyone interested. It's true that it could have used more flavor. Jin's estranged relationship with his father is something that is mentioned but never fully fleshed out and it leaves his character lacking in comparison to Casey. His motivations and callous behavior relating to his father's health don't receive the depth needed to be fully sympathetic which drains the film of some its central drama. Kogonada's debut may not be a full success, but his pensive tone and skill with image composition mark him as a filmmaker of high potential.
3/5 stars.